Many medical device design or manufacturing companies may find it difficult to allocate enough time and resources to master the regulatory compliance of medical device, and to compile, maintain, and update a Quality Management System. However, it is impossible to operate without taking these into account. In addition to quality management systems, which every medical device manufacturer must have, the regulatory requirements concerning medical devices are very strict, complicated but also mandatory - both in Finland and in international markets.
"The EU legislation for medical devices describes how we as a manufacturer of medical devices have to operate. In addition, our operation is regulated by Finnish legislation on healthcare equipment and by FDA regulations that apply to manufacturers who export their products to the US market. All the other country-specific laws need to be considered as well", tells Pekka Pohjosaho, working as Head of QA&RA Services at Innokas.
"Additionally, due to the new European Medical Device Regulations, MDR, there's a lot you need to know as a medical device manufacturer. The transition period ends 26th May 2020. However, there might be some delay because of the global COVID-19 crisis", he continues.
In addition to the design and manufacturing services, Innokas Medical is often asked about quality and regulatory services, and such demand is been continuously growing. According to Pohjosaho, in addition to the above-mentioned shortage of time and resources, the reason for the increased demand is the global changes in the regulatory framework. Manufacturers are also increasingly interested in, for example, moving to the Medical Device Single Audit Program (MDSAP). Innokas Medical is aware of the effects of various changes in practice and is therefore able to help its customers on a very concrete level.
"We've lived for healthcare technology for over 25 years already. Nowadays, Innokas' quality management system is based on European Union Directives, US Quality System Regulation, MDSAP requirements and Quality Management System standards", Pohjosaho explains.
"In 2019, there were altogether 56 audit days at Innokas. The new, recently acquired versions of the certain certificates indicate that our quality management system is kept up to date all the time, and that Innokas operates at a state-of-the-art level. I see this helps our customers to trust on our expertise", he continues.
Support for QMS maintenance
In addition to maintaining its own QMS, Innokas has offered quality services for its customers on a small scale already over ten years.
"Since 2008 we have succeeded in creating quality management systems for several customers, and the projects have led into certification", Pohjosaho explains.
He wants to emphasize that the establishment of QMS cannot be completely outsourced. However, it is sensible to let a competent cooperation partner outside the company to lead the project. This way, the company can concentrate on its own core competences. Especially in smaller companies, it is sometimes impossible to find an independent person in-house, who is able to evaluate the functionality of a QMS.
"A quality management system is created for a customer by discussing and going through issues in practical level. Innokas Medical knows what is required from a QMS, which makes it possible for us to steer the process in such a way that everything necessary is taken into consideration. We're also able to assists our customers in the seeking of regulatory approval and testing", Pohjosaho tells and continues:
"The final result is a certified quality management system, which is based on the company's own operation in very practical level. In addition to the specific needs of the customer, the requirements of company's target markets are also considered. These may include requirements from the EU legislation, FDA's QSR, the MDSAP and the ISO 13485 standard. The QMS documentation can be written in Finnish or English."
After the creation or updating of the QMS, the company may either assume the full responsibility for upkeeping its QMS or alternatively acquire the support of Innokas Medical's expertise. For example, Innokas Medical can take care of internal audits, facilitate management's audits, manage the updating of the regulatory requirement demands, and take care of other tasks required by the maintenance of the quality system.
Mastering the compliancy as important part of Innokas' QA&RA services
Due to the increase in the demand, Innokas has now expanded its quality and regulatory service offering.
"We offer our customers our support for reaching compliance throughout the whole life-cycle of their medical device, from idea, concept and research phase to design and development, to market entries and to post-market surveillance", Pohjosaho tells.
"Thus, in addition to creation of effective and practical QMS and procedures, we help our customers to ensure the safety and effectiveness of their medical device, to reach regulatory approvals for different market areas and to upkeep their product and procedures", he continues.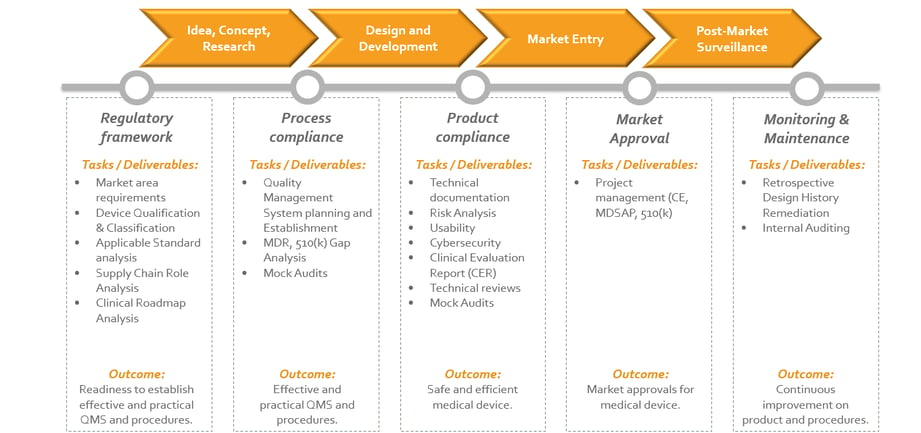 Due to the growing demand, Innokas has also increased the resources in the QA&RA services team. Two years ago, there was only one person working in the team in addition to Pohjosaho, but today there are altogether five talents in the team. In addition to Innokas' QA&RA services team, there are altogether four experts working in Innokas' Quality team. This team has – and will continue – to support Pohjosaho's team always when needed.
"We have very talented team and wide competence pool in-house. Additionally, we've launched Service Center concept as part of our operative model. Through this, we're able to utilize our Design Studio and Manufacturing Operations experts in very flexible way in our QA&RA projects when needed", he explains.
For Innokas, the development and strengthening of its own expertise and know-how in quality and regulatory affairs is a clear strategic step towards a thought leader position in the field.
"The regulations are changing a lot in Europe at the moment. The amount of responsibilities for QA&RA employees will increase due to e.g. new MDR/IVDR regulations in Europe. In the rest of the world a noticeable increase in regulatory requirements can also be seen as well", Pohjosaho ponders.
"Due to this we've made a strategic choice to integrate QA&RA experts in our different business units. In addition to our comprehensive service offering from idea to design and development, to manufacturing and to after sales services, we will even more comprehensively take care of quality and regulatory compliance of our different processes as well as during customer projects. A careful and professional QA&RA compliance and expertise may even become one of the competitive edges of a company in future", he concludes.
For more information about Innokas' QA&RA services:
Please contact Mr. Pekka Pohjosaho, Head of QA&RA Services