High quality combined with cost-effective production can be achieved through optimized manufacturability. This requires a wide range of expertise as well as strategic capabilities.
Innokas Medical has specialized in medical technology manufacturing services already since 1994, when the company was founded in northern Finland, in Oulu area. Alongside with the growth of the whole Innokas business, the company's manufacturing services have also got more diversified and developed over the years; today, Innokas manufactures medical devices for its customers in three locations. Innokas' manufacturing operations service offering covers all the phases of medical and IVD device manufacturing, from design transfer and production process validation to manufacturing and to the product life cycle management activities. All our sites are ISO 13485 compliant and FDA registered.
Innokas Medical's Helsinki factory was opened already in 2006, and the operation of the site is led today by Marko Sivonen, Head of Helsinki Operations. At the same time, Innokas expanded its operations to Rakvere, Estonia to implement the company's low-cost strategy. Today, Innokas' Estonian operations are located in Tallinn and are led by Head of Tallinn Operations, Valter Ritso.
However, Innokas Medical's headquarters and the oldest manufacturing site are still located where the company's roots are – in the Oulu area, in Kempele. There were some organizational changes made in the beginning of this year, as Ville Mätäsaho, who has been working at Innokas in various roles for already 10 years today, was nominated as Head of Kempele Operations. In his new role, Mätäsaho is responsible for leading and developing Innokas Kempele Site operations and resourcing.
"I came to work at Innokas already in 2010 and I've been able to work in various roles both in our Design Studio and Manufacturing Operations. I think my diversified background at Innokas will help me to succeed in my new role as Head of Kempele Operations", Mätäsaho ponders.
He sees his new role as very interesting and versatile one, as in addition to his supervisor role, he will be able to work with a viewpoint on Innokas' Design Studio and Manufacturing Operations businesses.
"I'm really thankful for my new, versatile role through which I'm able to develop my managerial skills as I'm able to manage even more larger entities now. I especially look forward for the opportunity to develop the operations of our Kempele site together with my team to ensure even more efficient, agile and customer-oriented ways of operation", Mätäsaho continues.
There are altogether around 120 employees working at Innokas three manufacturing locations nowadays. This headcount includes supervisors, production employees as well as sourcing and purchasing teams.
With professional pre-production activities the more agile market entries can be achieved
Innokas has invested in developing its manufacturing operations in past years. This includes, for example, transferring and centralizing certain manufacturing operations to certain factories, investments in new kinds of production technologies, utilization of data driven management as well as new kind of Lean ERP system ramp-up. These all have brought more agile and efficient ways in Innokas' manufacturing operations. Additionally, one core element in this journey of development has been the launch of Client Team concept, where a specific Client Team is been nominated for each manufacturing client.
"The Client Team is responsible for daily work in production as well as for the communication towards customers. Through this we want to be able to streamline the cooperation between Innokas and our customers", tells Ari Paalijärvi, who is working nowadays as COO at Innokas.
In addition to the development actions made, Innokas wanted to refresh the service offering of Innokas manufacturing operations business as well. The new service offering is based on certain packages designed and targeted for each phase of product manufacturing.
"We see that we have more clear and flexible service offering now, and it can be better tailored to meet our customers' specific requirements", Paalijärvi ponders.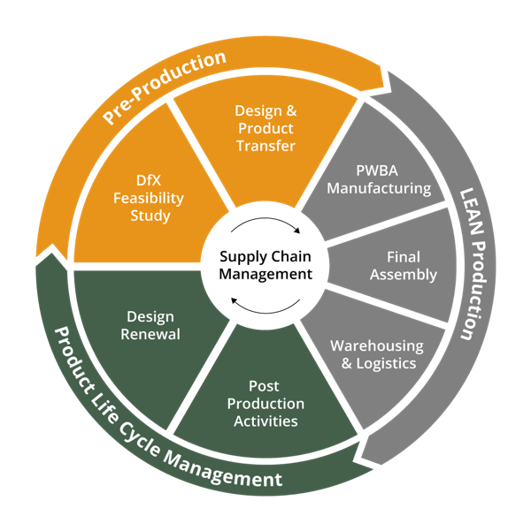 Innokas especially wanted to pay more attention on its' services offered in pre-production phase, as the actions made during that phase might have direct influence on the overall costs of the product as well as on its' time-to-market – without compromising the high quality of the product.
"We have launched DfX services as official part of our service offering now. For example, in the analysis phase of Design for Assembly, we analyze the structure of our customer's product and consider the alternative production methods to enable an appropriate and cost-efficient system assembly. Smooth assembly as well as more optimal amount of parts naturally speeds the assembly time and lowers the manufacturing costs of the product. Easier assembly typically reduces errors and improves the quality of first pass yield while lowering the quality costs", Mätäsaho explains.
"We also utilize our professional, qualified network of suppliers, for example with material and component selection. All this combined with the required documentation reviews as quality control tool we're able to prevent obvious errors to be transferred to manufacturing phase, thereby improving the quality and the total costs of the product while speeding up the launching time to the market", he continues.
In addition to DfX Feasibility Studies, Design and Product Transfers including NPI projects are offered during the pre-production phase as part of Innokas' service offering. Fast prototyping and professional design transfer have both crucial role when delivering new innovations to the market. Thus, selection of professional partner is an important factor when keeping up with the global competition.
Wide competence pool as a competitive edge
In addition to the pre-production phase, Innokas Medical's manufacturing operations service offering consist of PWBA manufacturing, final assembly as well as warehousing and logistics. Additionally, Innokas' has also launched more clear product life cycle management services, including post-production activities as well as design renewal services. Supply chain management acts also a natural role during the whole manufacturing operations life cycle. Paalijärvi believes in that Innokas is able to deliver added value for its customers through more clear service offering and the company's experience.
"The economically successful product is generated by ensuring the high quality of the product while optimizing its manufacturing costs. During the different kinds of customer projects Innokas' capabilities as well as knowledge within this has grown even further, that will surely benefit our other customers in the future, too", he ponders and continues:
"We have the full-service knowhow in-house, so we're able to form a very talented team of design, manufacturing, quality and sourcing experts to successfully implement the projects – taking care of the manufacturability, cost-effectiveness, lifecycle management as well as the quality issues, too. The added value, which the professional partner can create to the client in such cases, may in terms of time-to-market, but especially financially, be very significant."
Thus, Innokas Medical's uniqueness lies in company's comprehensive service offering, which, in addition to Manufacturing Operations and Life Cycle Management service offering, includes versatile Design and Development services, as well as strong experience in quality and regulatory affairs. The concept is superior for companies that need long-term co-creation partnerships for the product's whole lifecycle.
More information about Innokas Medical's service offering can be found from here.
More information about Innokas Medical's manufacturing sites from here: Kempele, Helsinki and Tallinn.