The software is becoming more and more important part of medical devices in the future. That's why it is very crucial for the companies working in the field to be able to develop even more complex and easy-to-maintain and -test software, which meets the growing regulatory requirements as well as customers' needs. Thus, Innokas MedTech Design Studio wants to continuously reinforce its in-house SW development and test automation know-how. The latest investment in this competence area was when Innokas recruited new talent, Antti Siipola, to lead Innokas' SW and Test Automation team. He is also responsible for the overall SW competence development, tools and processes.
"I've liked working at Innokas very much! My first months here have been busy and full of work, but I see my new role at Innokas very inspiring", tells Antti Siipola about his first months at Innokas.
Siipola started to work at Innokas at the beginning of May. His role is to lead Innokas' SW and Test Automation team as well as the overall competence development responsibility of it. Through the new recruitment, Innokas' SW and Test Automation team currently employs about 20 people.
"My title is Head of SW & Test Automation. In practice, I'm supervising Innokas MedTech Design Studio's SW and Test Automation team. In addition, I'm responsible for resource allocation of my team, new recruitments as well as for the overall development of our SW and Test Automation competences", Siipola continues.
He has gained very credible working experience as he has worked with different kinds of SW and product development projects over 15 years now. Before his newest position at Innokas, he has worked e.g. in Elektrobit, Bittium and Nokia in different kind of SW development and project management positions. At Innokas, combination of high technology and meaningfulness of the everyday work is something that has impressed Siipola.
"The meaningfulness of the everyday work is in line with my own values, as the solutions in the field have direct impact on improving the quality of people's lives. I also felt that it was time to take on new challenges on my work career, so accepting Innokas offer to take this position was actually quite an easy choice", says Siipola.
SW development as one of the growing trends in the MedTech field
Siipola sees the SW field in the medical device industry fascinating. The importance of software, its development and integration into medical devices is growing trend in the field, so keeping up with the global competition requires continuous development work from companies.
"The software is becoming more crucial part of medical devices, and number of devices using software in patient treatment is increasing all the time. Additionally, the role of connectivity and wireless features in future medical devices will increase even further. At the same time, the development cycles should be more agile", Siipola discusses.
He looks forward on interesting and challenging tasks in his new role in the future. In particular, he seeks out concrete results from the development work in this competence area, as well as the ability to influence Innokas' competitiveness and position in the international market.
"In future, we need to be able to develop even more complex and easy-to-maintain and -test software, which meets the growing regulatory requirements as well as our customers' needs. I'm looking forward to getting together with both the SW team and the whole of Innokas Design Studio team to build and develop our software competency to the next level. It's great to be part of supporting Innokas' growth in the international markets", he concludes.
In addition to Siipola, Harri Paavola (Chief, Test Automation), Tuomas Tallqvist (Usability Engineer) and Jaakko Hyytiä (Senior Mechanical Engineer) have joined Innokas MedTech Design Studio team during this year.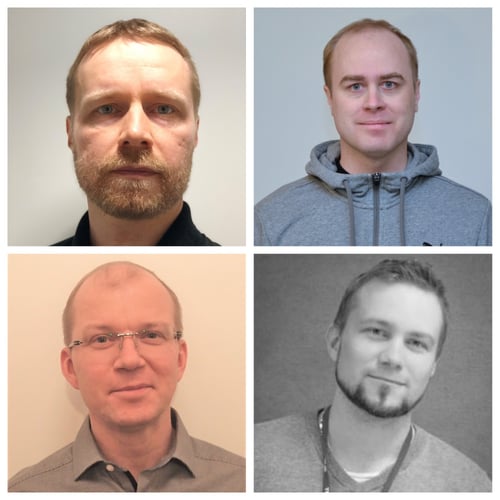 Antti Siipola (up and left), Harri Paavola (up and right), Jaakko Hyytiä (down and left) and Tuomas Tallqvist (down and right) in the picture.