The hot topics in HIMSS (Healthcare Information and Management Systems Society) Europe exhibition in Helsinki were human centricity and how to enable easier connectivity and interoperability with separate systems throughout the world. Also, the Nordic countries showed their skills with the world's first cross-border digital health framework. The event and all the topics quickly raised questions in mind: How to enable the medical device to communicate to mobile, cloud & backend EHR system? And how to enable rapid growth to international markets?
HIMSS event took place in Helsinki in 14-16 June at Messukeskus. The prior HIMSS Europe physical event was arranged in 2019 and due to covid not until now the meet-the-real-people event could take place. About 2300 participants came to the event from 40+ countries, which was nice for Finnish startups & healthcare innovators to have such an exposure to European markets.
HIMSS is a legendary event in US with 50.000+ annual participants and the European version has also gained momentum, thanks mainly to the active role of local sponsors, such as Sitra, Business Finland and Health Capital Helsinki.
Who is a typical HIMSSian then? Well, this year, more people came from abroad, about 60% of visitors were elsewhere over 40% of Finnish visitors. At the previous event, the ratio was vice versa. Decision makers, visionaries, startup innovators, ecosystem builders. Our host told me that most overseas visitors came from the Netherlands – along with visitors from other northern European countries. A common feature for these participants was their desire to internationalize their solutions – find new markets, be compliant with the needed regulations, follow latest trends and align to latest technological trends. HIMSS is a good place for those things.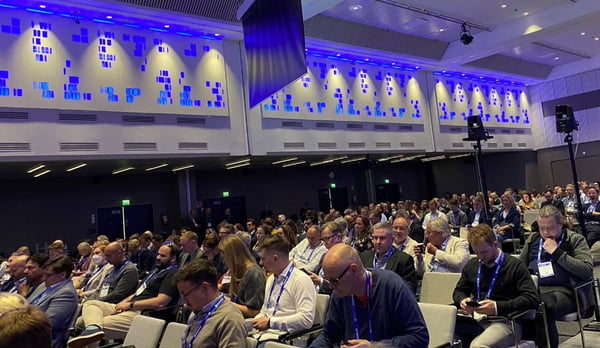 Tuesday's Keynote Audience
Preventive care and Digital Therapeutics are leading trends towards human-centric healthcare
From the first day, it became clear that human perspective was in the center of this event. It was visible from the first keynote to the various speaker sessions & panels in which new trends were described and envisioned. Also, in many sessions mental health issues were emphasized. It was great to notice that this subject was noted as it is a global phenomenon, especially among young adults.
Human centricity brought us to a new trend – Digital Therapeutics – which rose strongly to the limelight as an evidence-based treatment during harsh covid years. In a nutshell, this means digital tools to prevent, care & maintain your health as a patient - or as a citizen. Mobile technologies - remote monitoring, activity trackers, video visits & smart data analytics-based solutions are typical examples of preventive wellbeing.
How to integrate data sources and efficiently handle the health data?
The other hot topic was connectivity: How to integrate separate systems to talk to each other. It was notable that the HL7 standard with its FHIR APIs looks to be an answer to many of these questions. Not a direct magic bullet, but a usable technology to connect system swiftly and with low cost. Some great Finnish and European examples were demonstrated in various sessions. For example, the new Epic-based Apotti system in HUS area and OmaKanta from KELA, national Health Insurance service, provide FHIR-based connectivity to 3rd party apps. It is anticipated that the number of integrations will rise substantially in the coming years.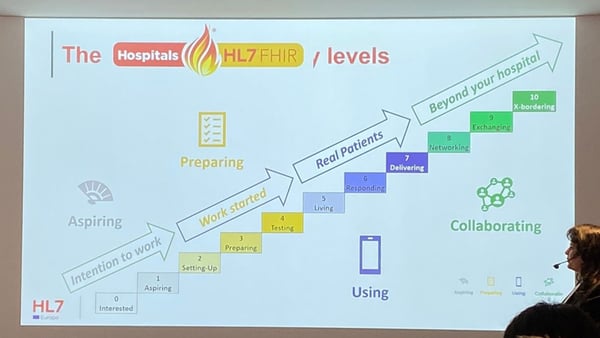 European hospital-on-FHIR roadmap
This brings up also the theme of health data and how to use it efficiently. Data collection into various data lakes is a big theme in large healthcare units such as hospital districts and biobanks. Providing quality data for the secondary usage is a major challenge not only on technical & security side, but also on how the data is harmonized & anonymized – for starters. The secondary usage of health data is mainly for scientists, innovators and educational purposes and the need to be able to compare apples to apples instead of potatoes demonstrates the need of high-standard health data.
A Nordic app store only for health apps – can this be true?
In one of the most exciting sessions we learned how advanced the Nordics are as to digital healthcare. The NordDEC -initiative – Nordic Digital Evaluation Criteria is the world's first cross-boarder digital health framework, that not only defines the criteria for the sound digital health apps, but also defines the process to distribute the apps to users – you can see it as an App Store of Digital Health apps! The project – powered by a Near NHS-born Orcha technology, led by N!P project and funded by Nordic Innovation - has now gained critical mass and momentum with governmental backing. Once the platform itself gets mature and national reimbursement policies defined, it will provide a huge pan-Nordic markets for digital innovators.
For those innovators next few questions come naturally. 1) How to enable rapid growth to international markets, as they are highly regulated and need special skills and investment to be compliant – and 2) How to enable the novel appliances to communicate to mobile, cloud & backend EHR system?
Do it yourself – or rely on a capable partner in digital health
For the first question Innokas Medical may have a cure. Timely released new service product – MDR Fast Track got huge traction as the startups had run into these unsolved questions, should you target your service to what class – if any. Key questions here are what does it cost and how long would it take. There Innokas Medical's MDR Fast Track solution would be an ideal chose. Taking the regulatory burden of for example maintaining your own quality management system & regulatory specialists onboard, instead of putting the whole emphasis on company's core focus and outsourcing Quality Assurance & Regulatory affairs (QA/RA) topics to a specialist partner – that's the question. At least, you should take a closer look at and analyze the time & money impact of both to build the winning strategy. As this a core competence of Innokas, we are a natural partner to contemplate this together with the "born global" companies. Based on the discussions on our booth, there is a growing need for this type of service.
Question number 2. How to build the software capabilities needed. Competition is fierce and your only option is to start building a world-class-product. Should you learn to do embedded software, cybersecure data flow to the cloud yourself or can you get professional help with quality-aware specialists? And what about the connectivity to patient record system. Do you have HL7 FHIR experience or not. Can you get help on this? This is where Digious – software house within Innokas – can help you to overcome the obstacles. Our disciplined technology specialists have a large skillset from IoT connectivity to HL7 FHIR integration and Artificial Intelligence and machine learning challenges. Handling and analyzing large amounts of data is essential to be competitive, and we're ready to help you on this also.
Thoughts after HIMSS left the building
To sum things up: good healthtech themes, interesting panels & discussions – but not as much direct business conversations as expected, to be honest. Based on the discussions with HIMSS executives they exceeded their expectations in Finland, and they did well. However, there is always room for improvements. Full transparency on the participants enabling 1-to-1 meetings efficiently, would be a good start next time. Now, presumably, the European event will go back to Barcelona next year, but hopefully will return, some day, back to Helsinki. Goodbye HIMSS!
Header image picture details: 1. Ilkka Räsänen and Kristiina Salmi having a break with well-deserved ice creams. 2. Innokas and Digious stand. 3. Visual journey of HIMSS 2022 Event by artist.