It has been noted that the occurrence of use errors, also called as human error, increases the number and severity of incidents related to the use of medical devices. Use errors typically occur when the basis for medical device design and development is weak, i.e. when the use-specific risk factors and usability engineering process are neglected. Thus, the reduction of incidents cannot rely on technical aspects only.
In this article we describe why usability is important in medical device design and development, how it is interpreted by regulators and standards, and how a usability engineering process can be implemented.
What is specific to usability of a medical device?
Usability is typically used as a synonym for expressions such as ergonomics, user experience, ease of use, accessibility, learnability, or user-friendliness. However, the meaning of usability in medical device design and development is quite specific – usability is considered as means to increase safety and minimize risks to patient and operator. Conventional usability attributes may be used for evaluating the design, but they should support the safe use, or be considered as add-on usability on top of safety-related aspects.
When creating any new product or service, it is essential for the designer to understand for which purpose the product or service is used. It is also important to clarify what kind of person the end-user is, what are the circumstances relevant to the use and how this user research data shall be utilized during the design iteration rounds.
In medical device development, this kind of background information shall be collected and used actively already from the start of the development until design transfer. The required tasks and activities have been modelled as a standardized usability engineering process that each medical device shall comply with. If the process is neglected, it may be impossible to launch the device to an intended target market. Moreover, the resulting product may turn out unsafe for the patient or operator.
The growing importance of usability in medical device industry
The importance of usability in medical device development has been recognized for decades. Certain changes in the medical device industry and market can be highlighted to explain why the role of usability in this field has even increased during the past years.
Until recently, medical devices were mainly used by healthcare professionals. They typically had some background knowledge and capability to understand the medical claims the device operation was based on. They also received training, e.g., from the manufacturers or distributors of new devices, or from a trained colleague. There were also healthcare professionals and resources dedicated for home care.
To some extent, the rules above still apply. However, healthcare professionals use more and more complicated medical devices in their daily work than in the past. Lack of resources is a growing problem, hastiness a common work mode, and time reserved for training and familiarizing with new devices and applications may be inadequate. Moreover, medical devices are increasingly used by lay users, i.e. persons other than trained healthcare professionals. The attributes related to intended users and use environments of medical devices have become more widespread and complex. This creates pressure to the way the devices are implemented and affects how the device operation is understood and perceived by users with different backgrounds.

Transparency and traceability are currently emphasized in the medical device industry. One example of this is the establishment of unique device identification system, i.e. UDI. One of the benefits of UDI is the possibility to trace a medical device from the end-user and patient back to the design and development. The legal manufacturer can, for example, use recall data provided via UDI as post market surveillance information and become aware of potential usability issues in their device.

As an outcome of the UDI system, and use of EUDAMED database in general, visibility to device specific information such as recalls will increase. In addition, the relationships between end users, manufacturers, regulators, and other actors, such as social media, keep getting less formal and more communicative. Any news related to the safety or usability of a medical device may reach a large audience and stir up public reactions. It is essential for the manufacturers to create medical devices that meet user expectations and user's ability to use the devices safely.

Finally, products previously not classified as medical or in vitro medical devices now fall into those categories as per Medical Device Regulation (2017/745/EU) and In Vitro Medical Device Regulation (2017/746/EU). This means that also regulatory requirements for medical device usability shall be fulfilled.
Implementation of usability engineering in medical device design and development
Medical device development is typically an iterative process where the initial design is built based on user needs and design inputs. Maturity of the design is then iteratively improved until the end-product fulfills the requirements. Implementation of usability engineering process shall support the entire design and development process but also go hand in hand with risk management. Risk analysis and risk evaluation feeds usability engineering in pointing out risks that potentially can be controlled and mitigated by design solutions proven with usability evaluation. On the other hand, formative evaluation provides risk analysis with potential hazards and hazardous situations that shall be evaluated. Additionally, the results of the usability engineering process are used in evaluation of residual risk.
The best alternative to fulfill regulatory requirements set for usability in the development process of medical and IVD devices is to follow applicable usability standards. These standards work as a solid basis for implementing the usability engineering tasks but require interpretation. As an example, the level of effort can be scaled according to the characteristics related to user, complexity of the user interface, extend of the use specification, and severity of harm associated with the use of the device. An experienced usability engineer may help in this.
Usability can be associated with user-centered design which means involving the intended users in the design and development. This is highly recommended in the medical domain but must be implemented in a proper way – users or patients are not designers and must not be treated as such. It is also useful to remember that developers easily become blind to their design. Lack of objectivity makes it challenging to detect potential design problems. The key to tackle above-mentioned challenges is to involve representative users and a usability engineer in the development AND follow a usability engineering process tailored for the purposes of the company and project.
Content of the usability engineering standards
To start design and development of a medical device, manufacturer defines the intended use of the device. Based on this definition, the device can be classified as a medical device which then shall comply with regulatory requirements. The recommended practice to reach market authorization is to use harmonized standards in the development of medical and IVD devices. In the context of usability, this generally means compliance with the following:
IEC 60601-1-6:2013 Medical Electrical Equipment - Part 1-6: General requirements for basic safety and essential performance - Collateral standard: Usability, which requires that

usability of a medical device is such that the risks resulting from normal use and use error are acceptable, and
there is an established and documented usability engineering process, acceptance criteria for usability, and evidence that acceptance criteria is met

IEC 62366-1:2015 Medical Devices – Part 1: Application of usability engineering to medical devices, which requires that a product development process includes a UE process (or it refers to applicable parts of the UE process) which is maintained and followed.
IEC TR 62366-2:2016 Medical Devices – Part 2: Guidance on the application of usability engineering to medical devices, which provides more detailed description of UE methods and tools
Co-creation in usability engineering
Combining the knowledge of different experts helps to achieve the best possible outcome. In co-creation for usability engineering, knowledge on users, use environments and usability engineering methods and tools is combined with risk analysis, risk mitigation and robust technology-related know-how. These are used in creation of required user interfaces and usability engineering file.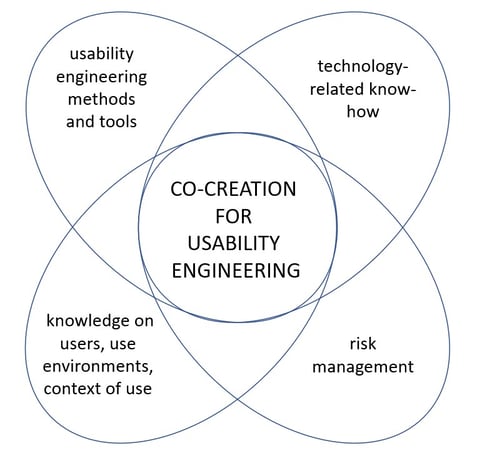 It is recommended to start usability engineering activities as soon as possible in the medical device development. This is because possible redesign due to inadequate usability gets more difficult and expensive the further the product is in the process. Integrating usability in the product development plan ensures that the required activities are performed in a timely manner, their outcome benefits the project and acceptable level of usability and safety is reached.
Do you want to discuss about the subject with our professionals? Do not hesitate to contact us!
We at Innokas Medical have worked successfully with customers having wide variety of usability engineering needs, and with medical devices in different life cycle phases. As an example, we have experience in conventional projects where we support the customer in usability engineering from the beginning of the project until design transfer. The iterative usability engineering work is divided into phases which are separated by milestone reviews, where the maturity of deliverables required for usability is checked. In this kind of controlled approach, the project proceeds to the next phase only if the requirements for the specific milestone are fulfilled.
We've also guided novice customers into the requirements of usability engineering. We help the customer in process establishment and with initial deliverables so that they can continue the work independently, or with support from Innokas whenever needed. Additionally, we've been building usability engineering files for medical devices when the device is already on the market, or ready for a notified body assessment, but is missing all or some evidence on compliance with usability requirements. In this kind of retrospective remediation, the technical documentation of a device is first reviewed. Experts from Innokas then create a gap list and proposal for completing the usability engineering file and can also execute the needed actions.
We are prepared for the changes brought by MDR and IVDR and see the importance of usability engineering increase on account of emphasized risk management in medical device development.
This article was another writing in a blog post series for creating next generation medical devices in more agile way. Based on our experience, the three commonly known methodologies of product development - Design Thinking, Lean Start-Up and Agile methodologies - can be successfully applied to the design and development of medical devices. When used properly, they reduce the time to market of a device by ensuring that customer's need is resolved with a well specified, correct and feasible solution which evolves incrementally. Usability engineering contributes to the agile medical device development. In our free White Paper, we describe how to use the three methodologies above to promptly launch a high-quality medical product to the market. Please, download yours below!