Were you at the Subcontracting fair last week in Tampere? We were and what we experienced was the whole exhibition center full of companies, people, networking, and great discussions. The stands were sold out and over a thousand companies were present. Did you know that this event is the second-largest European subcontracting fair and the leading industrial fair in Finland? It presents the industrial fields of metal, electronics, plastic, and rubber, as well as industrial ICT solutions and design and consulting for all of the above. We were there specially to present our design expertise and contract manufacturing opportunities. Our stand was in the back of the C-hall, which wasn't the best place possible but in the end, we got a nice number of visitors and discussions during the three-day fair.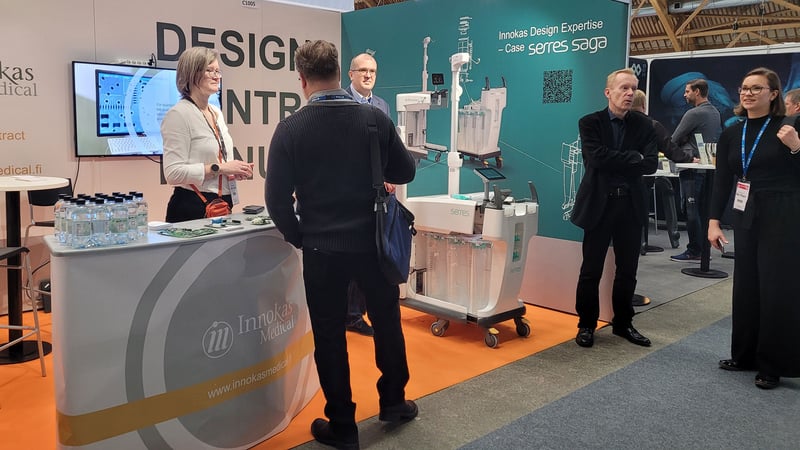 The first day morning: our stand C1005 and our people are ready to serve you!
A short summary of topics we discussed and noticed:
Quality: "What we noticed is that quality issues are highlighted in other demanding electromechanical device manufacturing than medical devices as well", tells Mikko Kangas, business development director, and continues: "We have a long history of being a medical technology company, but we wanted to point out that our expertise can cover other demanding electromechanical areas as well. And when you want your products to be manufactured in high quality this is something we are used to over the years in Medtech."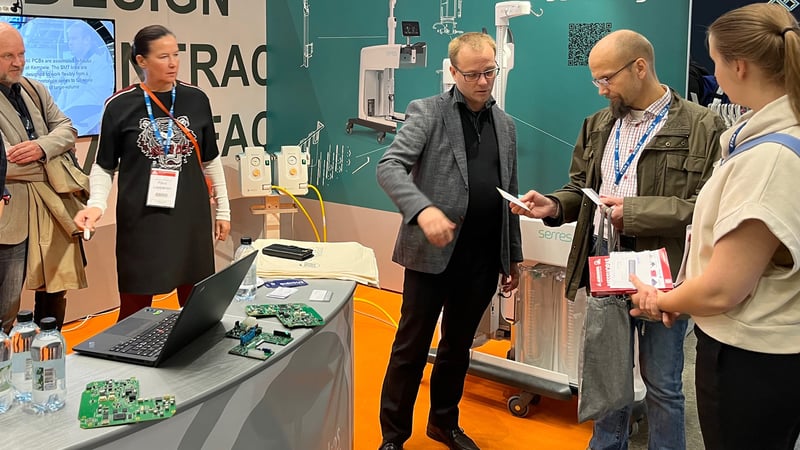 Päivi Leppänen, business development director, and Jouni Riuttanen, head of sales and marketing, being busy!
Supply chain: "What came up in discussions is that companies struggle with supply chain problems", comments Päivi Leppänen, business development director. The changes in the world situation have caused many challenges in different phases of the supply chain. "This is something we can help with. We have talented and experienced specialists who can tackle the problems and make a way for your product to succeed. Our highly skilled procurement has a long experience and a wide network to work with for instance. Our design studio can help your company with, for example, a DfC project to optimize costs in the product."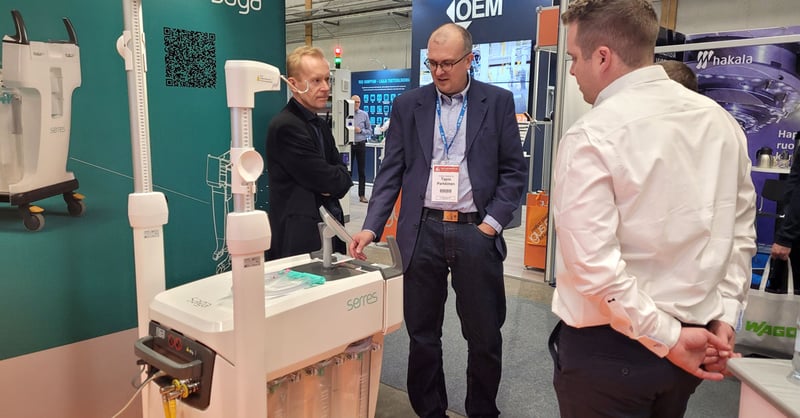 COO Ari Paalijärvi and Senior Mechanical Engineer Tapio Sarkkinen presenting our case device.
Proactivity: Mikko tells about wishes that customers have: "When a contract manufacturer is proactive on issues such as material changes or makes suggestions on how to improve costs in product manufacturing, it will make the cooperation better and builds up trust between the customer and a contract manufacturer."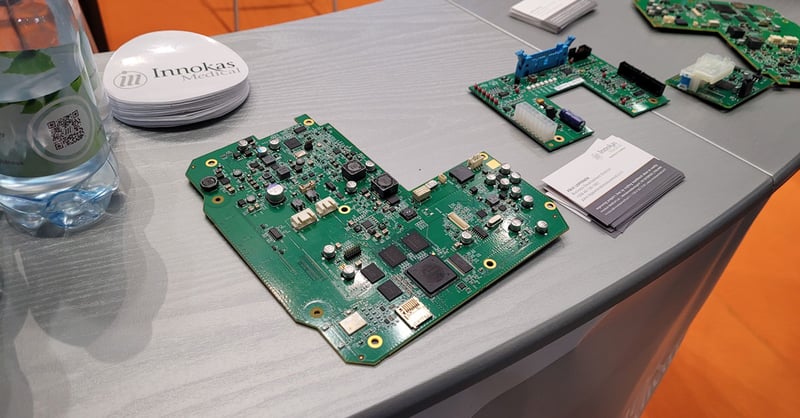 Circuit boards from our manufacturing.
Geographical location: Another thing Mikko points out is that when a customer chooses a contract manufacturer, a closer geographical location has become more and more important. Closer production has many advantages. For example, during the covid pandemic, we saw how the global logistics and supply chains were disrupted and uncertain due to lockdowns. Closer production gives more reliability and safety in disrupted situations.

Sustainability: Sustainability issues and regulations related to that are more important and are taking a bigger role in decision-making. "

Choosing a partner close, is also related to sustainability

", adds Päivi. For instance, we have three manufacturing sites: Kempele, Helsinki, and Tallinn and all of them have their own core function. All three work under the same regulations, standards, and Innokas quality management system. We can offer safe, secure, and high-quality manufacturing - all at a close distance.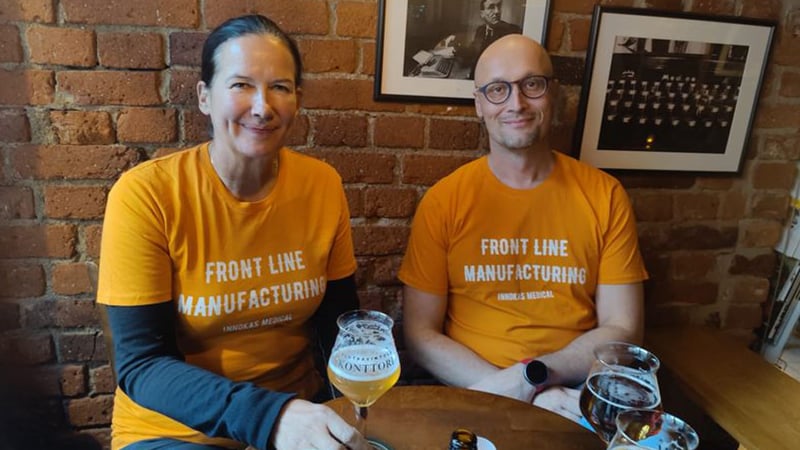 Business development directors Päivi Leppänen and Mikko Kangas moved to "the office" for more serious conversations.
All in all, expo was very worth attending, we had a lot of discussions and good networking. Our case example Saga – the fluid management system, attached people's attention at our stand, and we were happy to have many of our experts able to join the fair and talk about their work with people.


Thank you for coming and meeting us!

If you want to know more please read our recent blog articles on design and manufacturing. These include for example a case story, insight into DfX designing, info about our Tallinn manufacturing, and thoughts of our Chief of Operations Ari Paalijärvi about how this world situation has affected manufacturing, and a lot more! If you missed us at the fair or have questions in mind, feel free to contact us, we are happy to help you!