Human resource management has a direct impact on the company's performance and the quality of the daily work life. HRM objectives are also highly skilled and motivated employees, who are committed to their daily work and building company's success together. At Innokas Medical, the HR field and the development of it is lead by Head of HR, Päivi Toppila, and HR Specialist Tiia Lonka.
"Our goal is to develop Innokas even better workplace for our employees", says Päivi Toppila, who has been leading Innokas Medical's Human Resources department for about one year now.
"We measure the satisfaction of our employees annually through the Great Place to Work survey. By renewing our organizational culture and developing our leadership skills and managerial work, our aim is to develop Innokas among the best places to work in Finland together with our employees", she continues.
Toppila feels she's working with highly important and interesting tasks. As human-centric person, she's also bringing more soft values in Innokas' leadership work and daily operations.
"Our employees are our most important asset, so taking care of their well-being and know-how is an important factor for the success of our company", she says and continues:
"In addition to versatile and challenging work tasks and the ability to develop our working community, I am motivated especially by working with people and working for people. In addition, the development of our employees' well-being at work is close to my heart. Therefore, I also try to bring more soft values through my role in our leadership work and daily operations."
By co-operation towards even better workplace
When working as Head of HR and as one member of Innokas' Leadership Team, Toppila is independently responsible for HR management in accordance with Innokas' strategy and business goals. Additionally, she is also taking care of Innokas' HR processes and practices and development of them. Because of the wide field of responsibilities, Innokas recruited a new talent, HR Specialist Tiia Lonka, to support Toppila's work within the HR field.
"I came to work at Innokas from Ricoh Finland, where I was working as HR and Quality Coordinator. My working tasks consisted of different kinds of HR practices as well as tasks related to environmental and quality standards", Lonka tells.
"I am very thankful to Ricoh Finland for having me there for many years, as I was able to develop myself as HR professional while learning a lot about the business itself", she continues.
As HR Specialist, Lonka is responsible for taking care of different kinds of HR practices together with Toppila. She says that especially the meaningful field to work in as well as the versatile work tasks were something that sparked her interest at Innokas.
"I'd say that the size of Innokas is just perfect; in medium-sized companies you're really able to influence on things", Lonka ponders and continues:
"I think one of the best things in our company is the ability to develop our organization, organizational culture and ways of working in cooperation with all our employees. I really see my role very fascinating."
In addition to sharing same kinds of working tasks, Toppila and Lonka share some common ideas as well. Especially the positive working atmosphere at Innokas and the pleasant working community are something that inspire both every morning when they go to work.
"I have to say that we have a wonderful working community, in which it is truly a pleasure to work. Sometimes, we're spending free-time with some of our employees as well, as I have found new friends from our working community", Toppila tells.
"I have been warmly welcomed as new employee, for which I'm very thankful. It has been a pleasure to see how positive and professional team we have here at Innokas", Lonka continues.
Additionally, these women share the same goals in HR field. Especially the development of Innokas Medical's organizational culture, HR processes and employees' know-how, as well as ensuring the well-being of Innokas employees is close to both of their hearts. And through this, they're trying to reach the ultimate goal: have Innokas among the best places to work in Finland.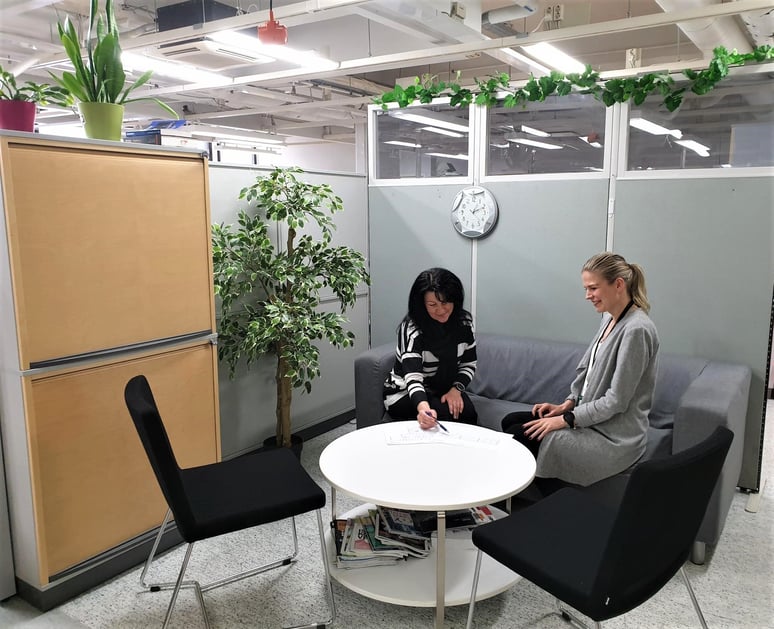 Päivi Toppila (on the left) and Tiia Lonka (on the right) in the picture.