#GivingTuesday is a global day when the world comes together to give.
Today is Giving Tuesday, a global day of charitable giving. The event was created back in 2012 as a response to consumerism. Celebrated on the Tuesday following the U.S. Thanksgiving, Black Friday and Cyber Monday, Giving Tuesday encourages people and organizations around the world to do good and give back. Since its inception, the idea has grown into a global movement that inspires people to give, collaborate and celebrate generosity. The Finnish Fundraising Association (VaLa) now brings the movement to Finland for the second time in a row - integrated to our culture as #TekojenTiistai.
Innokas Medical joins the movement together with its sister company Serres Oy by supporting families, whose kids are battling critical illnesses, through Guest Room Sponsorship of one of the 14 guest rooms of Ronald McDonald House in Helsinki. Every year, supporters like us help upkeep the House, enabling more than 400 families stay together when they need it most.
By family room sponsorship, Innokas Medical and Serres sponsors one of the 14 guest rooms (the room called "Puna-Apila") of the House. Sponsorship helps offset the cost of operating the House, offering families a homelike place to stay closed by their hospitalized child at a low cost. By staying at the Ronald McDonald House of Helsinki families can focus on the health of their child while allowing the child to get the best care possible – even if its hundreds of kilometers away from home.
"By this Guest Room sponsorship, we are able to support the families by bringing them near their seriously ill children when he or she is being treated in the Children's Hospital in Helsinki. We're very delighted to be able to support program like this and to join this global day of charitable giving", tells Elina Rautiola, Head of Marketing and Communications at Innokas Medical.
As a global movement, #GivingTuesday unites countries around the world by sharing our capacity to care for and empower one another. Now when we're having this movement in Finland as well, Innokas Medical and Serres encourages all to join to Finland's second #GivingTuesday!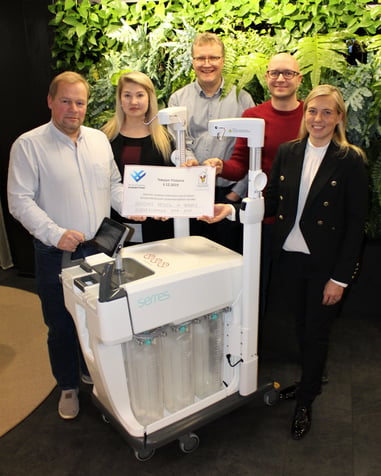 For more information about #GivingTuesday, please visit: https://www.givingtuesday.org/
For more information about the Guest Room Sponsorship of Innokas Medical and Serres, please visit:
https://blog.innokasmedical.fi/blog/innokas-medical-and-serres-together-support-children-in-specialized-medical-care-and-their-families