Autumn is here and it has already booked our calendars full of meetings, deadlines, and projects. Before that, at the end of August, we all in Innokas Medical had the opportunity to spend time together and enjoy Innokas Day. It was a day filled with cheerful mood, inspirational speeches, and a relaxed, easy-going, and fun evening with laughter and good food. Let's take a little peek back to that day!
The morning was mostly a normal work morning, but some teams used the opportunity to organize some extra activities. For example, the Digious team that had its first anniversary had a workshop meeting together, whereas the Sales and Marketing team got to know each other better with the music jury game. All in all, it was nice to see some buzz at the office when everyone was present in a cheerful mood.
After lunch, it was time to get together with all the Innokas people. The theme for the afternoon was Innokas' values: Quality, Expertise, Responsibility, and Meaningfulness. We heard great speeches and insightful thoughts from Innokas' specialists inspired by the values.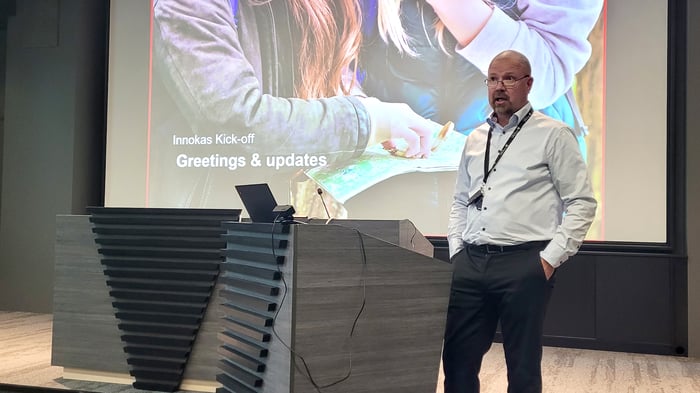 CEO Janne Kostamo opening the afternoon event
For example, speeches about expertise were presented from different but all very important angles:

CTO Antti Kaltiainen raised thoughts about what expertise means for oneself and what it means to be an expert in something whereas Head of Sales & Marketing Jouni Riuttanen presented through physical graphics how different types of expertise enhance the force in the team when working together.

In addition to these, specialists in our sourcing and production gave us practical insight into what special expertise is needed in everyday work in Innokas production.

Jenni Tuulos, Head of Design Studio, presented meaningfulness-value through a case example of an ongoing health tech project: the meaningfulness of our everyday work is most evident through projects whose aim is to develop devices and software to help people to have a healthier life.

Our new project manager Markus Nivala also said a few words about how he ended up applying to Innokas Medical. One thing was that working in Innokas is truly meaningful. Not in every company you can be part of creating something that improves people's quality of life.

These were just a few examples but at the end of the day all one can think after hearing these speeches: It is proud to be part of this and be surrounded by all these specialists.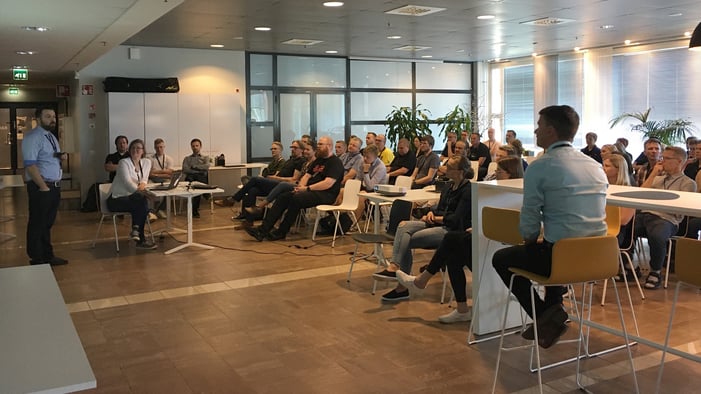 Kempele site gathered together and Pekka Pohjosaho presenting
Speakers were in both Espoo and Kempele sites but with good connections, we managed to create an interesting half-live and half-virtual afternoon.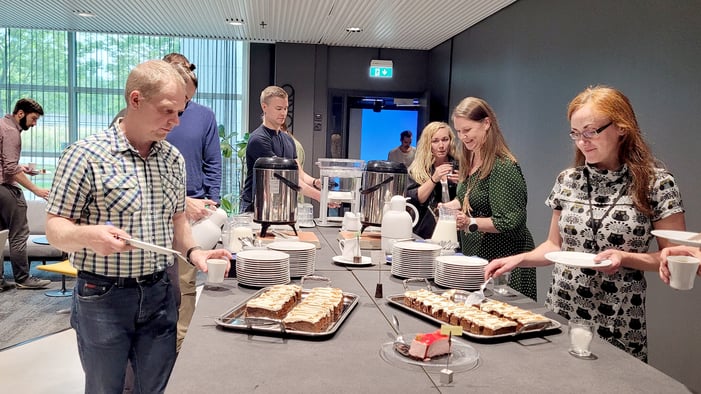 It is time for coffee and a cake!
After the coffee and cake break, it was time for growth strategist Anssi Rantanen to give us a presentation on the topic: what do the world's best-growing companies do differently, and what can we learn from them? It became obvious why he won the 2019 Nordic Business Forum speaker competition - it was such an interesting and inspirational presentation for the end of the day.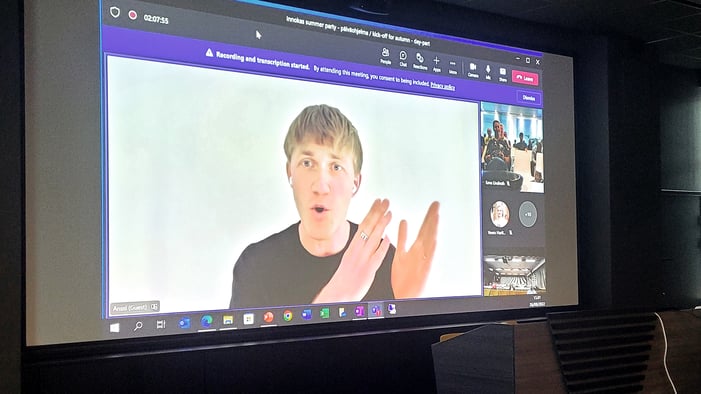 Anssi Rantanen inspiring us!
Nice and relaxed events were organized in Kempele and Espoo for the evening, Tallin having taken a head start already earlier in July. Good food, music, and shared moments of laughter, dancing, and fun activities certainly gave people a nice break from everyday work, especially after the long pause in the events.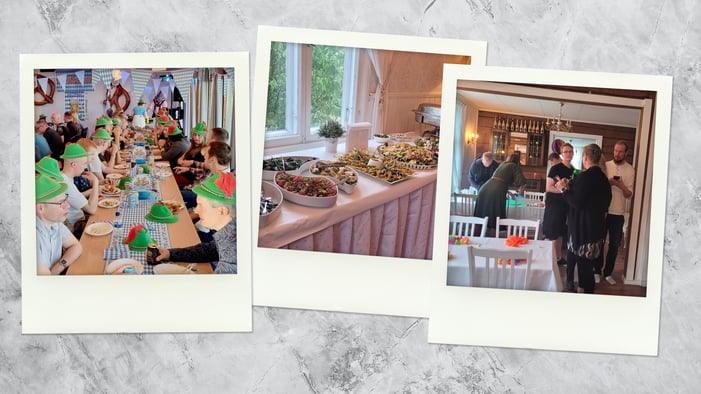 Thank you to the organizers, speakers, and people from Innokas!