"It never really gets boring here. The tasks vary and it's easy to pick up and learn new things", comments Ville Kauppila, who originally applied to Innokas as an intern in March 2023. When asked how he ended up choosing Innokas as the place to do his internship in, Ville quotes a valuable tip from a friend and swift application process.
"My friend had applied here, and since I was still wondering where to apply, he suggested I'd try Innokas as well. The day after I sent my application, I got an invitation for an interview", Ville remembers. He works at Innokas Medical's Kempele location at the moment.
"I did some prior research, and I found Innokas Medical's focus on being primarily a MedTech company appealing. The prospect of working with medical technology seemed more attractive to me than assembling something more commonplace, such as phones," Ville expresses his opinion on working in MedTech. "Despite the regulatory framework in this industry, I don't perceive the work I personally do as remarkably difficult."
In May, Ville secured an apprenticeship contract with Innokas and has since continued his work with us. "In my day-to-day tasks, I primarily do testing, soldering, and occasionally assembly. The variety of tasks keeps me engaged," Ville explains his work. "I genuinely enjoy working here. The people are kind, and the work environment is pleasant. Minna Lahtinen has been overseeing much of our work with testing, and I find her to be enjoyable to work with," Ville describes the work and the work environment.
When asked whether he would consider working at Innokas later as well, he agrees that he would. "In fact, I have already been asked to return once the manufacturing resumes in August," Ville discloses. "Considering how fulfilling this experience has been, it is highly probable that I will come back. I just need to confirm with my school, but I am confident that I will definitely return," he shares his plans for the future.
"If this field entices you at all and you seek diverse work tasks, I recommend applying to Innokas. This workplace has a lot to offer, and monotony is never an issue. They provide thorough training to familiarize you with the work you will be undertaking, so you don't need to know everything right from the start," Ville concludes.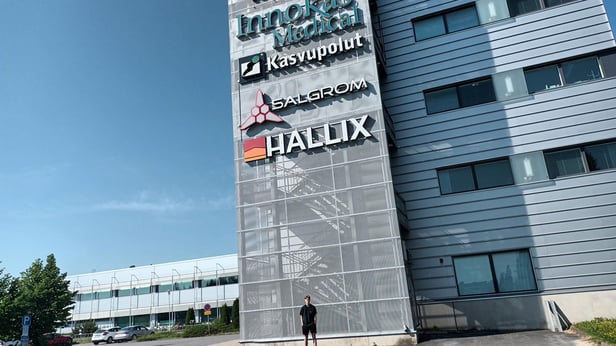 Ville plans to return to Innokas Medical in the autumn