Innokas Medical participated in the Medica trade fair held in Düsseldorf, Germany, on 12th to 15th of November, 2018. The Medica / Compamed fair is one of the largest exhibitions in the field of medical technology. This year altogether 120,000 professionals attended the fair, and all 16 fair halls were fully booked.
Among over 20 other Finnish medtech companies, Innokas participated the fair by joining the Finnish joint stand organized in cooperation between Business Finland and OuluHealth
"We see that the joint stand system Business Finland and OuluHealth organized is a really smart way to compile companies from the same country in the same pavilion to represent Finnish health technology expertise and know-how. Our stand was located in a good spot and all the arrangements by Business Finland and OuluHealth went very well", tells Elina Rautiola, working as Marketing and Communications Manager at Innokas Medical.
Innokas was represented at the Medica fair by Innokas' CEO Jouni Toijala, Executive Vice President Tommi Kaasalainen, Head of QA&RA Tiina Kotipalo and by Business Development representatives Jan Pauve and Heikki Norros. Innokas representatives consider that the exhibition participation was beneficial.
"Year after year, Medica offers a great overview of trends and offering in the medical field, so the days spent in Medica were really good! Medica brought this year about a dozen of new leads to further follow-up", Pauve tells.
In addition to stand participation, Innokas Medical's CEO Jouni Toijala and Head of QA&RA Tiina Kotipalo participated Medica Connected Health Forum. In the event, they shared some thoughts on agile co-creation of next generation medical devices and how to ensure the compliance with increasing regulatory and industry complexity.
"There were lot of listeners and some discussion as well afterwards. All in all, we see we were able to contribute to a very successful fair participation this year", Rautiola discusses.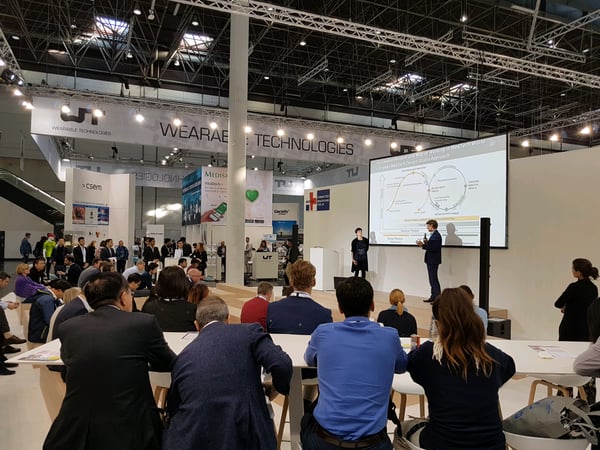 Medica Connected Health Forum
Medica/Compamed will be arranged next year from 18th to 21st of November.
More information about the fairs at: