Serres Saga® Fluid Management System, co-created by Serres Oy and Innokas Medical, is a smart solution for managing large fluid volumes in the operating rooms, improving efficiency, safety and patient care. Serres Saga collects surgical fluids and measures the volume differential between irrigated and recovered liquid. The first Serres Saga systems have already been shipped from Innokas' Kempele factory to the end-users.
Minimally invasive endoscopic and ambulatory procedures, involving large quantities of fluids, are increasing around the world. More fluids add pressure on nurses using traditional methods to collect and manage fluids. Serres Saga supports nurses in their daily work by providing immediate relief in managing large fluid volumes safely.
"Our innovation answers to both challenges - more procedures during the day and more fluid during the procedures", tells Laure Lacoste, who works as Product Group Director at Serres.
Serres Saga Fluid Management System also saves time through uninterrupted suction and rapid changeover between patients, enabling more efficient workflows through the day.
"Our system enables continuous surgical suction without breaks even when fluid volumes are large. Our innovation can be used with multiple patients with only quick changeover of manifold between patients and procedures. This allows hospitals to treat more patients per day while enabling them to manage fluids safely", Lacoste explains.
The Serres Saga system enhances patient care and safety with real-time liquid deficit monitoring and automatic solidification of suction fluids.
"Thus, Saga provides real-time information to the operating room staff at a glance - ensuring better informed patient care. This enables more efficient workflow throughout each procedure", Lacoste continues.
Serres Saga is an addition to the Serres portfolio of smart fluid management solutions that includes the integrated Serres solution for fluid collection and disposal with Serres Suction Bags and Serres Nemo. The Serres Saga fluid management system has received a CE-mark and is now available in the UK, France and Germany with other European regions to follow.
Better outcome by co-creation
Serres and Innokas Medical started design and development related co-operation few years ago, when Serres chose Innokas Medical as their co-creation partner to develop the final commercial version of their innovation.
"As we've concentrated more on suction bag systems but not on medical devices before, we realized we'll need a professional and reliable partner with proven track record to co-create our innovation together with us. This is the point when Innokas was chosen as our partner", Lacoste explains.
Serres has been the owner of the development project and the main coordinator of it. Innokas Medical has offered its expertise on the project in the areas of mechanical design, software development, software testing, usability design and prototyping - and now also for manufacturing. Juho Sutinen, who works as Project Manager at Serres, tells that the cooperation with Innokas Medical's Design Studio team has gone well, as expected.
"By co-creating with Innokas, the development of our product has benefited from a very strong base of technical as well as domain specific expertise", Sutinen ponders and continues:
"We're extremely happy on Innokas' capability to run the IEC CB Scheme in schedule. We were thus able to complete the CE-marking process based on the CB Scheme Innokas run out for us in more agile schedule."
Lacoste says that the main reason Innokas was chosen as a partner was the company's full service offering for medical devices, which has added value for the Serres team. Additionally, the customer-oriented way of operating is something Serres team is thankful of.
"As in all development projects, we encountered some problems during this one as well, but Innokas' performance was efficient in addressing and fixing them. Additionally, communication has been transparent throughout the project", Lacoste says and continues:
"The team at Innokas has broad experience in transforming health tech ideas to finished medical equipment, mass-manufacture these for the international markets, and to take care of all quality and regulatory matters. These capabilities have created value for Serres as well. Now we're up and running with Saga as the manufacturing of the device has finally started, and the first devices have been shipped from Innokas Kempele factory to final destinations. We're very excited!"
For more information about Serres and Saga® Fluid Management System, please visit:
https://www.serres.com/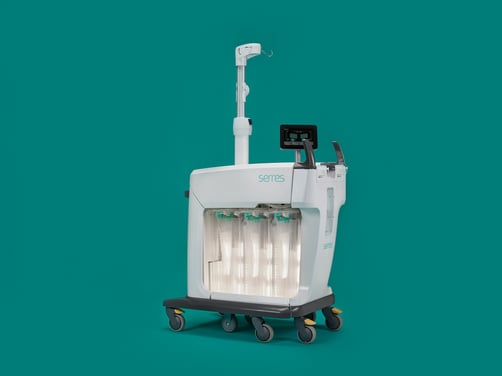 Serres Saga in the picture.